MEDITERRANEAN COOKING WORKSHOP & TAPAS
This is a dynamic, participative and fun Mediterranean cooking class, guided by professional chef.
Head to the private home of a professional chef for a comprehensive, hands-on cooking class. Learn a variety of traditional Spanish recipes. Taste as you go along and listen to the chef explain how to use important regional ingredients such as olive oil, tomatoes, and herbs.
Before starting the cooking class, you will have the chance to try ten tapas from different cities in Spain, and the chef will give a brief explanation of the origins of each ones.
We will start the cooking class where you will learn how to make seafood Paella, Spanish omelette and Catalan cream.
You will then be invited to our private lounge for a tasting menu of our cuisine accompanied by the finest wines, all served by waiters.
It is an open workshop, it means that can attend up to 10 participants. Here lies its charm and a chance to meet interesting people.
The open kitchen workshop hours are for lunch from 10:40 a.m. until 2:00 p.m. And for dinner, from 3:40 p.m. until 7:00 p.m.
Language: English/ Spanish.
It can also be done as private cooking workshop, that is, with a chef, assistant and a private space for you. For groups of two to twenty two participants. The cooking workshop schedule for a private group it's from 7:30 p.m. at 11:00 p.m. (dinner time).
Contact us for more information and reservation.
Dynamic of the group:
Welcome to the participant with snacks and drink while you cook.
A brief introduction of the activities will be made.
Every participant will have an apron, a table with space, with the materials, the ingredients and the food for cooking the meal.
Will count with the help of an assistant and chef, who is the one in charge to give the directions to the team in the elaboration of the recipes.
When the meal is done, the participants will move to the dining area where they will sit at an imperial table to eat the meal they have prepared.
Event's length: four hours approximately.
Language: English/ Spanish

It includes tasting 10 "Tapas" and a full lunch.

Cooking Workshop led by a professional chef
TASTING MENU: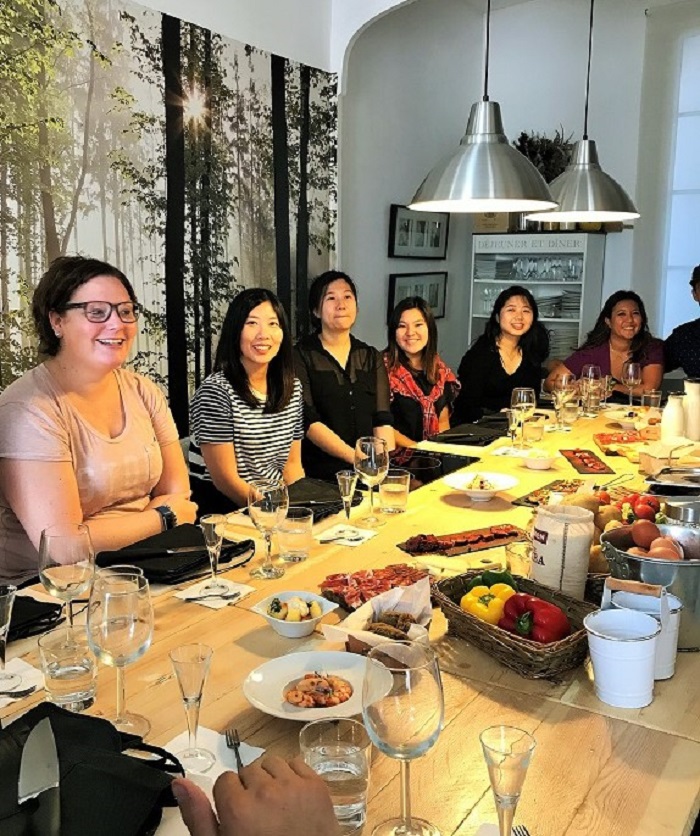 Make your reservation now!
✻